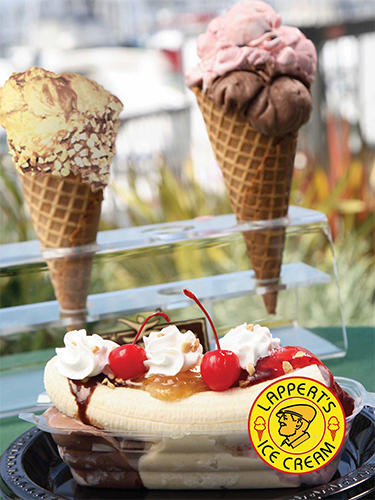 3 Simple Recipes for Homemade Ice Cream
Nothing can beat summer heat like a cone of flavored ice cream.
The frozen treat is a must for summer parties. However, not everyone finds it convenient to travel to a grocery store nearby to stock up on their favorite dessert. Instead of buying commercially prepared ice cream, you can prepare it on your own. Here are a few easy-to-make recipes to help you enjoy home-made ice cream:
1. Coffee and Chocolate Ice Cream
Ingredients
• 2 cups reduced fat milk
• 2 tablespoon instant espresso
• ¼ cup chocolate syrup
• ½ cup white sugar
• 1 egg yolk, lightly beaten
• 1 cup fresh cream, whipped
• 2 tablespoon cornstarch
• 1/8 teaspoon sea salt
Instructions
1. Take sugar, salt, and cornstarch in a bowl and whisk together.
2. Add milk and cream and stir for a few minutes.
3. Cook this mixture at medium heat for around 10 minutes and then remove the container from the stove.
4. Add egg yolk to thicken the mixture and whisk it lightly.
5. Add espresso powder and whisk for some more time.
6. Strain this mixture into another bowl through a wired mesh and pour chocolate syrup. Cool it for an hour.
7. Wrap the frozen mixture with a plastic sheet and chill it for up to 24 hours.
8. Take out ice cream into bowls and serve!
2. Peach Ice Cream
Ingredients
• 10 fresh peaches, peeled and chopped
• 6 eggs, lightly beaten
• 4 cups heavy cream
• 3 ½ cups white sugar
• 2 teaspoon vanilla extract
• ¾ teaspoon salt
Instructions
1. Take sugar and eggs in a bowl and whisk until smooth.
2. Prepare puree of peaches in a food processor.
3. Add 5 cups of peach puree in the egg mixture.
4. Add cream, salt, and vanilla extract and mix together.
5. Transfer the ingredients to a bowl and chill in the freezer for a few hours.
6. Serve and enjoy!
3. Mint Chocolate Chip Ice Cream
Ingredients
• 1 cup sweetened chocolate chips
• 1 teaspoon peppermint extract
• 2 cups reduced milk
• 1 cup white sugar
• 2 cups heavy cream, whipped
• 1 teaspoon vanilla extract
• ½ teaspoon salt
• 3 drops food color, green (optional)
Instructions
1. Take milk, sugar, cream, vanilla extract, peppermint extract, and salt in a large bowl.
2. Keep stirring the mixture until sugar has dissolved.
3. Add a few drops of food color to make it more appealing.
4. Move the mixture to an ice cream maker.
5. Freeze it for 10 minutes and then add chocolate chips.
6. Freeze it for another few hours before serving.
All in all, ice cream is a dessert that can help you cool down during hot summers, whereas knock out your cravings during cold winters. You can enjoy it anytime and anywhere. Preparing ice cream at home isn't some rocket science. With the help of the aforementioned recipes, you can enjoy delicious and healthy home-made ice cream in desired flavors super easily.