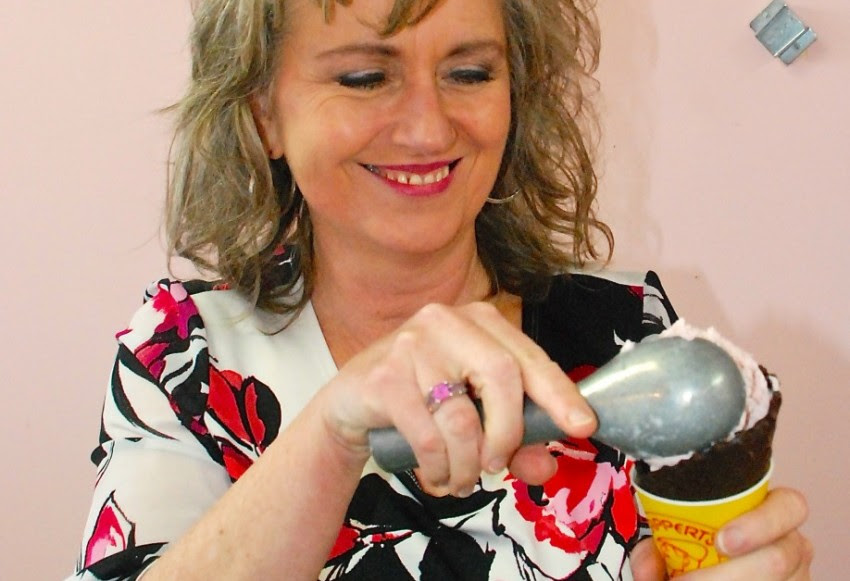 Chamber recognizes San Juan Bautista ice cream shop
Margot's Ice Cream Shop in San Juan Bautista wins Business of the Year honors from San Benito County Chamber of Commerce.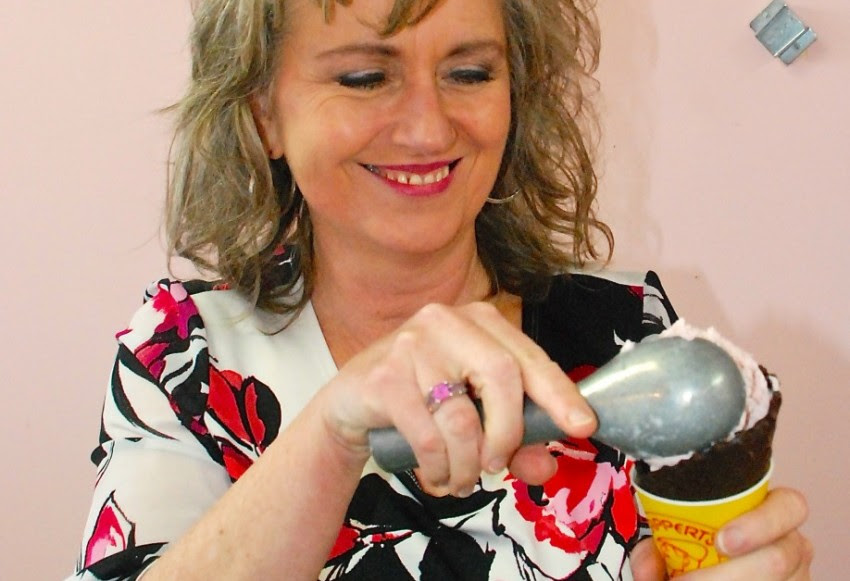 Margot Tankersley, owner of Margot's Ice Cream Shop in San Juan Bautista, makes an ice cream cone at the shop.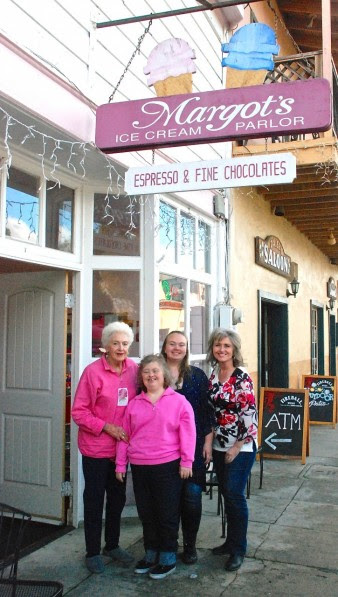 Margot Tankersley, right, with her family outside Margot's Ice Cream Shop in San Juan Bautista. Her mother Naomi Medina is at left, next to Margot's sister Katie and Margot's daughter Laurie.
Margot's Ice Cream Shop also makes and sells its own candy. Owner Margot Tankersley stands behind the candy display at the shop in downtown San Juan Bautista.
Margot Tankersley has been selling sweets at her business, Margot's Ice Cream Parlor in San Juan Bautista, for 21 years. This year, Margot's parlor has been selected as one of three Chamber of Commerce "Businesses of the Year".
The Hollister native was a single mom when she purchased the shop from its previous owner. She had just finished esthetician school in Salinas and started her own esthetician business when the shop, at 211 3rd St., became available.
Originally, when she was just starting out, she had been looking for a place to sell her handmade candies, Kayla's Candies, named after her daughter. Tankersly had moved back to Hollister from Nevada and was looking for ways to establish herself.
"I had everyone (at her esthetician school) hooked on truffles," Tankersley said.
With help from her mom Naomi Medina, who ran an in-home daycare center, and her daughter, Kayla, who ran the cash register at age 8, the business was off and running.
Margo's first started selling Dreyer's Ice Cream along with Kayla's Candies. But about a year into the business, she was approached by a salesman from Lappert's Ice Cream. Tankersley agreed to sell Lappert's exclusively and it was a fortuitous decision.
Lappert's was founded by the late Walter Lappert in Sausalito in 1983. He decided to move the company to Kaui, Hawaii, his favorite place in the world. The ice cream is known for its creamy, handmade-like quality.
Tankersley and daughter Kayla, now 29 and living in Oregon, went to Kaui and met Walter Lappert. Lappert told her to talk to his son Michael Lappert, who runs Lappert's mainland operation in Richmond. She and Michael Lappert worked out an arrangement to put her candy flavor in a Lappert's ice cream.
"I took almond butter crunch and developed Kayla's Almond Crunch ice cream," she said. "Other flavors, they tweak them for us," Tankersley said.
For instance, the store had a lot of ice cream with chocolate in it. So Lappert's leaves out the chocolate chips in Big Cherry Cordial for the shop. The company also leaves out the crust pieces and pecans of its pumpkin pie flavor at Tankersley's request.
"When we don't like a certain thing in a flavor I just ask that they leave it out. … We would rather not have it."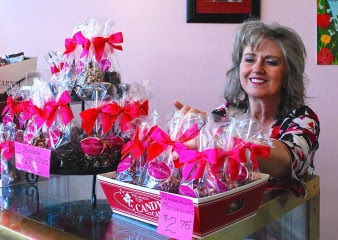 Margot's also sells Lappert's coffee and espresso.
The shop sells seven flavors of chocolate truffles, including milk chocolate and dark chocolate apricot. There are Oreo cookies dipped in chocolate as well as chocolate-dipped graham crackers and dipped and sprinkled marshmallows.
"A lot of people don't know I make candy after all these years," Tankersley said.
"I try to make candy as natural as possible …," she said. "You've got to add a little sweetness to your day."
Tankersley had to step up her game when her supplier of frozen chocolate bananas disappeared. She rolled up her sleeves and learned to make them herself. She also makes specialty items, such as chocolate moulded lollipops. One special order included chocolate lollipops in the shape of race cars.
"It's fun to kind of change it up a little bit …," she said. "We do make things up. I get bored sometimes."
She developed a Margot's coffee granita with ice cream and espresso and a Hawaiian granita.
Specialty boxes for candies are available for special occasions, such as wedding, showers, fashion shows, even funerals.
Margot's hit a pretty big bump in the road in 2011 when the building in which it operates was red tagged by the city of San Juan Bautista. It turned out it had no foundation. In November of that year the shop was shut down while the foundation was added. It didn't reopen until April of 2012.
In the meantime, her other daughter, Laurie Tankersley, 14, sold Girl Scout Cookies outside the business. That however, didn't assuage the shop's customers, now fully hooked on Margot's treats.
"People kept looking in the windows," Tankersley said. "They kept asking, 'Are you open yet?' "
Schoolchildren on field trips to Mission San Juan Bautista were disappointed, too. They usually stopped at the shop for treats afterward.
Margo's is not only known for its sweets. It also has a reputation as a place where you can buy homemade pozole soup, which Tankersley's mother makes and sells every Sunday. Pozole, which mean "hominy" in Spanish, is a traditional soup or stew from Mexico. Tankersley's mother, Naomi Medina, is also part owner of the shop.
Besides managing the ice cream parlor, Tankersley has her own skincare business, under her own name.
"I love holistic and natural ways," she said. "My family calls me the witch doctor because I just love essential oils and holistic stuff."
She also believes in giving back. Margot's and its employees support many community groups, including El Theatro Campesino, San Benito Council for the Handicapped and Saint Jude's.
The chamber awards will be presented Jan. 27 at a dinner-dance at San Juan Oaks in Hollister. Intero Real Estate Services and Galaxy Self Storage will also be recognized in the Businesses of the Year category.
This is the first time Margo's has received the Chamber of Commerce honor. She and her husband Craig Tankersley, plan on attending the awards later this month.
"I was so surprised," Tankersley said. "Oh my gosh, and flattered, too. It's an honor to be recognized. … We try to do for the community when we can."